What is a bookkeeper?
A bookkeeper keeps business financial records and performs basic and essential accounting tasks.
When qualified; a bookkeeper may work for a business or in organisations such as the NHS, or a local council. You could even start your own business and work with multiple clients.
All courses accredited by Institute of Certified Bookkeepers
With over 150,000 students and members and with HRH Prince Michael of Kent as patron, the ICB are the recognised professional standard. It is a powerful qualification for your CV and can help you get a job.
The ICB have performed detailed, rigorous checks to ensure our courses meet their high standards.
Our ICB Bookkeeping Complete course includes FREE ICB registration fee and FREE 12 month ICB membership worth £78.
Study from home, at your own pace
If you struggle to find time to study every day at a traditional college, a home learning course is an ideal solution. Over 60,000 people have studied with us from home and enjoyed full support from a tutor.
You'll study whenever you want, at your own pace. There are no strict deadlines (most of our bookkeeping courses require 80 hours of study- that's around 1 hour and a half a week).
You could complete your course in 2 weeks or 12 months- it's up to you. You can even take your examinations online.
Award-winning tutor support
Our courses are studied entirely from home- but you'll still enjoy full support from a tutor.
Our bookkeeping tutor will help you every step of the way and in recognition of her diligent support she has recently won Tutor of the Year 2014 at the ICB Luca Awards with 2 further shortlistings for the last 2 years.
Meet our award-winning tutor - Caroline Wren
Tutor support helps student succeed- with a 98% exam score
"I did the level 2 computerised bookkeeping course through your College and had Caroline as my tutor.
Bear in mind, when considering what I have to say, that I was an academic with the OU for 20 years, was involved in writing courses, and also tutored students.
I have done a lot of study in my time and I would like to say that studying with the College has been one my best educational experiences.
The course material was excellent, the assignments and practice exam extremely helpful and Caroline was the best tutor I have come across. She is knowledgeable and extremely helpful. Her comments on my queries were timely and exceptional, and it was in no small part due to her support that I was able to pass my exam with 98%.
She not only does her tutoring job well, but clearly takes an interest in her students. She even offered (unbidden) invaluable help with my L2 manual exam which I did today (even though I had studied it with another college). You have a star tutor in Caroline and I hope the College appreciates how much she contributes to its high quality image.
I have not copied these comments to Caroline, but I hope you will convey them, and my appreciation, to her."
Simon Riordan, Manchester
"I am amazed how quickly I am managing to get through the course..."
"I am really enjoying the course and found it very easy to progress through it as the study material is extremely good and explains everything in an easy to understand manner.
I am completing the course full time as I am on Gardening Leave having been made redundant. I am hoping to set up my own business as a bookkeeper and the course is giving me more confidence each day to go ahead with my plan.
I am amazed how quickly I am managing to get through the course as everything is easy to understand, and very pleased that I have received such high marks on my assignments so far due to the well written study material."
Kathryn Collins, Southampton
Winner of ICB Small Accredited Training provider of the year 2014. Shortlisted 4 Years in a row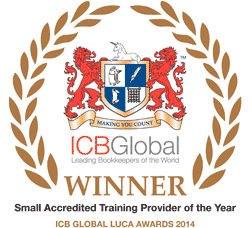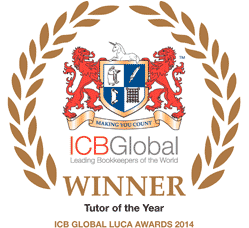 We are delighted to have been recognised by the Institute of Certified Bookkeepers in 2014- winning both 'Tutor of the Year' and 'Small Accredited Training Provider of the Year.' And for the last 2 years we have been shortlisted for Tutor of the Year and Large Training Provider of the Year.
In fact, we have been on the award shortlist for the last 4 consecutive years, so you can be sure that when you enrol with Open Study College you are going to receive bookkeeping tutor support that has been consistently rated among the very best.
What previous student Anna Cross thinks of Open Study College
Why enrol with Open Study College?
Become a qualified bookkeeper*

Winner! ICB Luca Awards - Tutor of the Year 2014

Winner! ICB Luca Awards - Small Accredited Training Provider of the Year 2014

Shortlisted! ICB Luca Awards - 4 Years in a Row.

Become a full Member (MICB) of the world's largest bookkeeping organisation*

Over 60,000 students have enrolled with us

Study from home, at your own pace

Full support from your tutor

Easy to understand course materials

Take your exam online

FREE SAGE 50 workbook software*

FREE ICB registration fee and FREE 12 month ICB membership worth £78*

FREE NUS Extra Card - Exclusive discounts at high street shops

FREE CV writing service - Get a better CV to apply for better jobs
* - Only refers to our ICB Bookkeeping Complete course.
Enrol on our ICB Bookkeeping Complete course & save £218.00